Services
Study Plans for Canadian Study Permits
What is it?
A study plan is one of the most important parts of your Canada Study Permit application. Don't take chances with your dream. Let us help to increase your chances of getting approved with a professional study plan that presents the information that matters most.
The study plan must specifically address the questions asked on the application and must be limited to a single page, as per Study Permit application requirements. It may look easy, but what the authorities are really looking for is not obvious by the questions they ask. Developing answers to make a strong case is where we add value.
An approvable study plan should:
Be well written
Be well balanced, in terms of presenting the applicant and making a strong study case
Include some research, where appropriate
We help in three main ways:
We work with you to get information that addresses the most important issues for immigration authorities.
We will present your thoughts in a clear and concise manner, which achieves two goals:

It is written in University-level English
It emphasizes answers that create a credible picture of an applicant who is approvable for a Study Permit

If needed, we will do research to add to your answers, which may include:

Research related to local employers and/or jobs of interest that may help an application
Educational facility research (both Canadian and in your country, if available in English)
Comparative and statistical research
How Much Does It Cost?
Our fee for a study plan is $499 Canadian dollars (taxes will be applied if you are ordering from Canada). The full amount is payable in advance when you are ready to move forward.
The First Step is Free!
Get in touch with us to take the first step: a free analysis to make sure we can help you. Simply fill out our contact form and we will send you an email with a few questions. Send it back with your answers and we will let you know if we can help, at no charge.
How long does it take?
In most cases it takes us 5 business days to complete a study plan (weekends and holidays excluded) from the time we receive complete answers to our full questionnaire. Before we start writing, completing answers may require some discussion by email or by phone, depending on your preference. Delivery timing will be confirmed when you are ready to move forward.
Our Process
First, fill out and submit our contact form, and we will follow up with a few simple questions. We will do some research to make sure we can help you, and we will contact you to let you know the result within two working days.
Once we confirm that we can help, you can decide if you want to move forward.
If you move ahead, we will send you a Paypal invoice for $499 CAD plus applicable taxes to start the process.
Once the payment is made, we will follow up with a questionnaire so that you have an opportunity to give us some useful information about yourself and your plans.
If it is needed, we can set up a call for a phone interview or via Skype or Whatsapp if you are outside of North America. We can also continue to communicate by email instead if it is easier. All communication will happen in English, and we recommend using Microsoft Bing Translator to help you with translations if needed.
Depending on what you tell us we will have some follow-up questions until we have enough information.
If needed, we will do additional research to strengthen the information to be used in your study plan.
We will develop a draft study plan for review and approval, by both you and your lawyer or consultant.
We will make any requested adjustments.
We will finalize the study plan and send it to you.
Please note: We strongly recommend working with an immigration lawyer or a consultant for specific legal and program advice. If you would like the name of an immigration lawyer or consultant, please fill out and submit our contact form.
What if your English is not very good?
We can still help you. We will send you our questions in English. These questions are written using simple language so that you can easily translate them by pasting them into a translator such as Microsoft Bing Translate (our recommended service). When you prepare to send us the answers to our questions you can write them out in your own language and then use the online translator service to translate them to English before sending them back to us. This approach works with 90-95% effectiveness in our experience, and this is usually enough to make a good study plan.
40% of Applicants Are Rejected
Don't sacrifice your dream of studying in Canada; a little help goes a long way. In 2019, study visa applications were rejected at a rate of over 40% for college, university and bachelor applications. (Source: IRCC, Polestar study).
See rejection rates in chart below: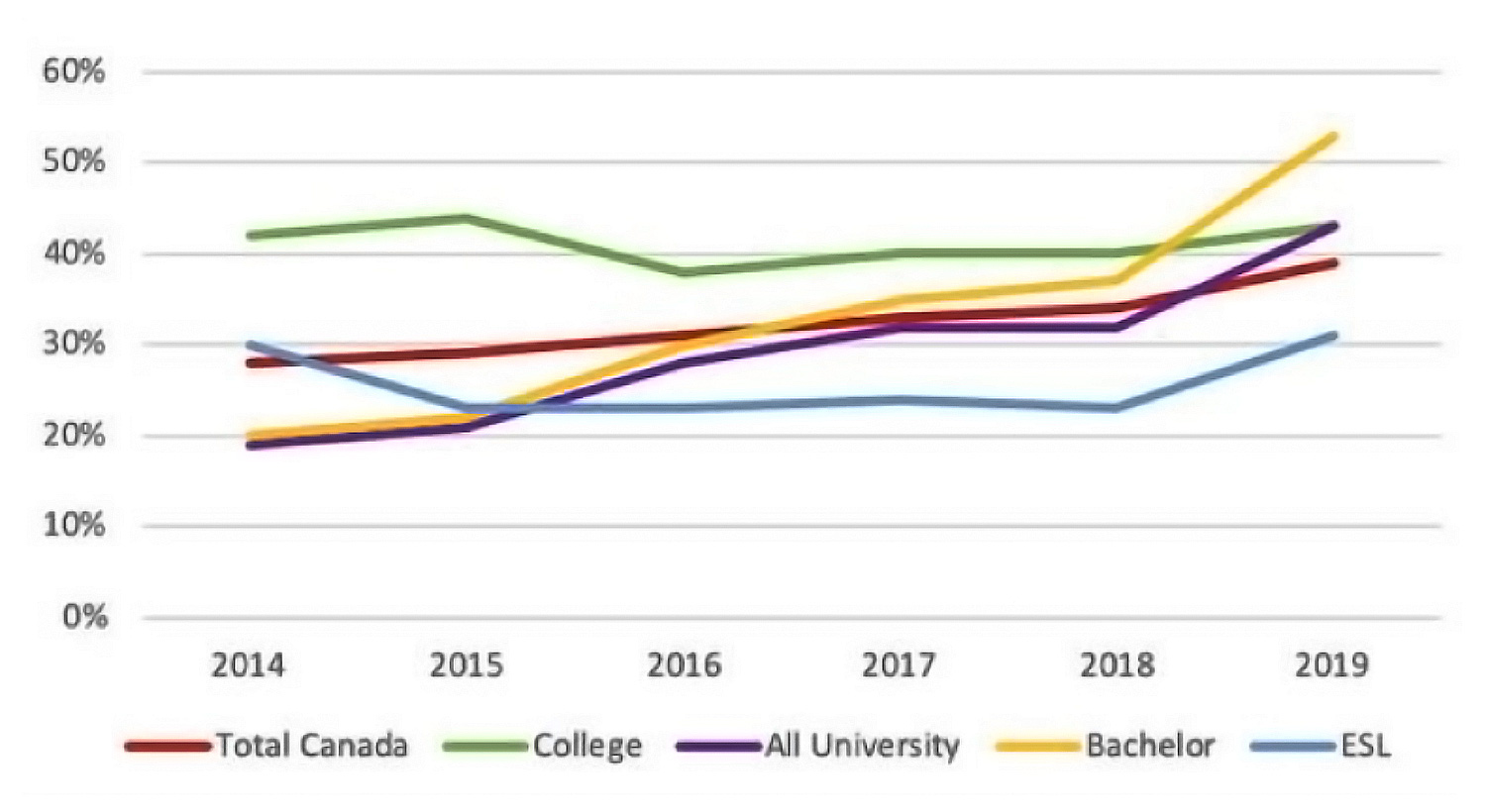 Source: IRCC, Polestar